PoshPetCare is built on a unique concept: Keep It Simple. We are your "GO TO" people in the city of Los Angeles. We are fully trained to handle your pet's needs and can assure that your little companion will be completely satisfied.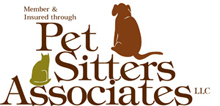 Besides being avid dog and pet lovers, we are also Behavior Counselors. We have studied and practiced pet care and dog training based on renowned authors and trainers who are widely known as being the top dog trainers in the world and consults with many private organizations. We are also certified in First Aid for Pets through the American Red Cross. We even have Basic Obedience Training for dogs.
Did we mention we're avid pet lovers? Just like any pet owner, we realize how demanding corporate America can be. Why should this affect the quality of life your dog or pet could be living? It shouldn't! Let us take the time to care for your pet and you can continue to work for your family and pet's welfare. We are NOT a replacement: just a means of care for your loving friend. Remember, at PoshPetCare: It's Personal!